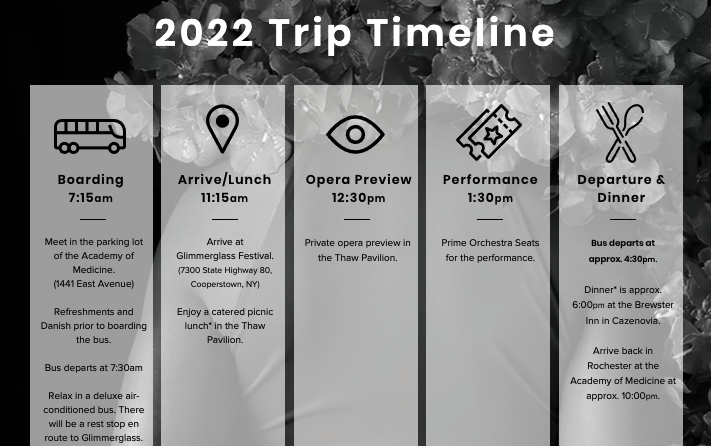 Sultry days call for sultry heroines…it's Carmen for this year's bus trip to Glimmerglass

Our bus trip to Glimmerglass is back! Join us for this summer highlight as we travel to Cooperstown to see Carmen at Glimmerglass. It's a lovely excursion with meals, transportation and an opera ticket covered in the price of $270 ($250 for Opera Guild supporters). The trip takes place on Tuesday, July 26, 2022, and we will be attending the 1 pm matinee.

Please note that we are requiring a COVID vaccination to ride the bus.

Registration form at https://www.operaguildofrochester.org/glimmerglass-trip
---
Glimmerglass Opera Tour : Tuesday, July 26, 2022 Matinee at 1 pm.
Bizet's Carmen, presented in French with projected English text
Price (all inclusive) $ 250.00 for Guild contributors - $ 270.00 for non-contributors
$20.00 tax deductible contribution included
* Refreshments and Danish before boarding bus *Round trip in deluxe air-conditioned bus
* Catered Picnic Lunch in the Thaw Pavilion * Prime Orchestra Seats
* Dinner at the Brewster Inn in Cazenovia
Boarding 7:15 am Departure 7:30 am
>>> Meet at the parking lot of the Academy of Medicine, 1441 East Avenue <<<
*** If requested, we will make a pick-up at Eastview Mall ***
~ There will be a rest stop en route to Glimmerglass ~
To reserve: Complete form on our website, and make out check for full amount to Opera Guild of Rochester.
Mail to: Helga Strasser, 31 Hickory Lane, Rochester NY 14625.
Cancellation refund policy: 100% by June 24, 50% by July 12, none afterwards
Questions: Call Helga Strasser 586-2274, or e-mail Helgas@rochester.rr.com
Limited to 50 – don't delay
Note: A COVID vaccination is required to ride the bus to Glimmerglass.
https://www.operaguildofrochester.org/glimmerglass-trip
Ticket Information
Pricing

270

Tickets by Phone

Info via Email

Online Tickets